Claudia Milz, PhD, LMT, CPT  (MA77810)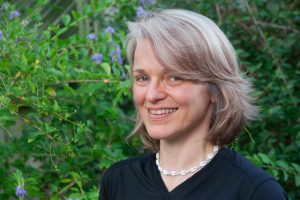 Claudia is an integrated FSM-trained and Florida Licensed Massage Therapist and Personal Trainer (IMAP, ISFTA) with a knack of helping with rehab situations for post op, injury and amateur athletes, as well as improving and maintaining functional well-being in all. The sessions are customized to the client's needs (pain, posture, including complex medical situations) and preferences (mostly 'deep tissue' including tissue integration and neuromuscular therapy, with adaptive pressure).
Certifications also include Thai Massage (Ariela Grodner's Bodhi Sangha), Usui Reiki (Master/Teacher following apprenticeship, since 2010). Training focuses on trauma, pain relief and scar treatment, and she has in-depth experience with chronically ill, whiplash from MVAs, scar tissue from common surgeries, old and more recent injuries, as well as amputations.
She also helps people who are in the midst of a lifestyle change: eating healthier and getting fitter. Her athletes come from different activities, including endurance (runners, bicyclists, swimmers), technical and cave divers, performers, and more. Please note that she is not a nutritionist nor is she allowed to diagnose or prescribe. However, part of her practice is client education and support.
A professional through and through, her prior career as PhD engineer and executive MBA focused on data driven approaches and analyses, from unique research through Six Sigma Green Belt Certification and Black Belt Mastery. Her approach even as a therapist can be likened to state of the art project management, respectful of and efficient with resources and with a challenging but attainable, mutually agreed on, goal in mind.
You can book online securely with Claudia at https://neutrallybuoyant.as.me and use major credit cards for payment. In person, you can use FSA and HSA (if funds are still in your account and the card is in the name of the client), major credit cards, cash and local checks. She has certain business policies in place, including that the full fee is owed within 24 hours of the appointment. With few exceptions, she does not accept same day appointments or call-ins. Checking her schedule and booking online is your best choice, you can also contact her via her web page. Email, web page contact and (for regulars) texts to her cell phone tend to be faster and more reliable, but if you must use a phone please leave one clear and meaningful VM and allow one business day for the response.
The sessions offered can be 60, 90 and 120 minutes long ($80/60min), and consist of bodywork and exercise programming related assessments and consultations. If you are considering your first session with Claudia, a 60-minute bodywork session may be best. For those wanting reflexology, Thai, or Reiki, or an exercise program, please contact her first. For your first session, please arrive 10-15min early to fill out her paperwork.
Claudia looks forward to meeting you and assisting you with feeling better, healing and the beneficial change you want.